Philippines Weather & Puerto Galera Weather
Philippine weather, for sailing, has two distinct seasons: Northeast monsoon "Amihan" winds, from November to April; and, Southwest monsoon "Habagat" winds, from May to October. Tropical storms and typhoons (hurricanes / cyclones) may affect Philippines weather at any time of year but most frequently from April through to November; typhoons almost never affect the sailing around Mindanao, because it is too far South, creating excellent cruising opportunities from Samal Island (in the Davao Gulf), around the East coast to Dapitan (Zamboanga Del Norte) and through the southern Visayan region (Bohol through Negros to southern Palawan).
Because the Philippines is so strategically located, between the West Pacific and the South China Sea, Puerto Galera weather forecasts, Philippine weather forecasts and typhoon warnings are available through a myriad of different weather forecast sources.
Puerto Galera weather forecasts and Philippines weather forecasts contain hourly, six hourly, daily and weekly weather forecasts & updates, including satellite imagery, barometric weather charts and weather webcams.
---
Puerto Galera Weather
NOW
Get the actual Puerto Galera weather right-now-this-minute from Puerto galera Beaches, where the weather webcams are located at Big Apple Dive Resort and elsewhere:
Puerto Galera webcam
For more Philippine weather and weather webcams, located along the Puerto Galera peninsula beaches, click here:
MyCam-Asia.tv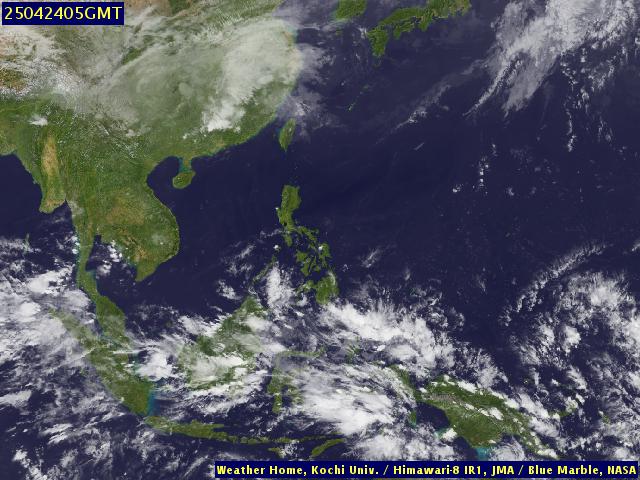 Get the Philippines weather picture from space - hourly infra-red satellite imagery for Puerto Galera, the Philippines, West Pacific, West Philippine Sea and the South China Sea:
Kochi University, Japan
View the latest Philippine thunderstorm & lightning activity from satellite imagery for the Philippines, West Pacific, West Philippine Sea and the South China Sea:
World Wide Lightning Location Network
This Joint Typhoon Warning Center link provides early warning of tropical storms and typhoons by indicating locations where the weather conditions are currently conducive to the formation of tropical storms and typhoons.
---
Typhoon Philippines
WARNINGS
GET PHILIPPINES TYPHOON WARNINGS ALERTS
Receive PHILIPPINES TYPHOON WARNINGS ALERTS for typhoons & tropical storms that may directly affect Puerto Galera and other popular Philippine water sports and sailing areas.
Get Philippines Typhoon Warnings through email simply click on this link:
Or, get Philippines Typhoon Warnings by following us on Twitter:
For typhoon warnings, the last known position, expected track and typhoon strike probability of current tropical storms affecting Puerto Galera, the West Pacific, West Philippine Sea and the South China Sea we recommend:
Joint Typhoon Warnings Center is the primary data source for typhoon warnings, typhoon strike probability and tropical storms tracking, for Puerto Galera, the West Pacific, the West Philippine Sea and the South China Sea. The Joint Typhoon Warning Center data is used by almost all other typhoon warnings websites - we recommend you visit this source first;
NRL Monterey Marine Meteorology Division (showing typhoon-track graphics, strike probability the latest satellite picture of typhoons and tropical storms);
and, Typhoon 2000 (an interesting additional tropical storms link with typhoon-track archive)
---
Puerto Galera Weather
FORECASTS
For long range Puerto Galera weather forecasts of active tropical storms you should visit the Tropical Storm Risk website, which offers predictions primarily for the purpose of insurance risk assessment but it is a useful resource for all.
Tropical Storm Risk
The Fleet Numerical Meteorology and Oceanography Center ("FNMOC") of the U.S. Military, provides a five day forecast of wind at various levels above the sea surface in the West Pacific, West Philippine Sea and South China Sea. The streamline graphics are useful to identify wind features that are not immediately obvious from barometric charts; combined with barbs, overlaid on colored wind-intensity graphics, this weather forecast tool provides a visual overview of likely wind conditions.
FNMOC West Pacific (click the highlighted "all" at bottom of "Tau" column) Note: you may get a security caution, ignore it, this site is safe.
For seven day Puerto Galera weather forecasts - wind direction/strength, wave height, temperature and cloud - and for many other Philippine windsurfing and water sports destinations, the WindGuru gives some pretty accurate weather forecasts at:
www.windguru.cz
For another view of the wind direction/strength and wave height weather forecasts for the Philippines, the West Pacific, West Philippine Sea and South China Sea, the Windfinder gives wind & water sports enthusiasts colourful seven day weather forecasts at:
www.windfinder.com
Forecast information sites that provide Philippine weather forecasts of particular interest to surfers and power boat owners, including wind speed, swell height & period weather forecasts:
www.magicseaweed.com
For links to other weather information & weather forecasts relating to the Philippines, the West Pacific, West Philippine Sea and the South China Sea try rummaging through:
www.weather.org.hk
---
Copyright © 2003–2013 Puerto Galera Yacht Club, Inc., Philippines; All Rights Reserved
Disclaimer